Five daughters. Imagine that. Gone in one go.

I come from a family of Five Sisters and the bonds we have are unbreakable. We're together through thick and thin. Some of the happiest and memorable moments I have spent were with my Sisters.

In the on-going Israeli massacre of Gaza, among hundreds that were killed and are still being killed was the story of a family which lost five daughters.

Washington Post reports:


JERUSALEM, Dec. 29 -- Trapped in the rubble, Iman Balousha, dressed in her green pajamas, said she could hear her sisters' cries. "Mother! Mother! Where is my mother? Pull me out!" Their muffled voices slipped through the toppled bricks.

Early Monday, an Israeli airstrike on the Jabalya refugee camp in the Gaza Strip destroyed the family's house, located next to the Emad Aqeel mosque, the intended target, which was also flattened. Rescuers tried frantically to save the girls. Iman was lucky: She was half-buried in the debris.

One by one, the cries stopped, Iman recalled in an interview. She could see the leg of her 4-year-old sister, Jawaher, whom her family called Ayah. She could touch her hair. But minutes later, Ayah stopped breathing.

"I've lost five sisters," Iman, 16, said at a relative's house Monday evening, her soft voice fading. Tears slid down her face. Her mother, Samira, held her 16-month-old son, whose face was bruised and specked with dried blood.

"Does my 12-days-old baby have a rocket with her?" Samira demanded. "Or my son, does he have a missile with him? Or did my daughters have AK-47s beside them? Why did they target them?" The five daughters who died were ages 4 to 17.
What really hurts is that they were aged from four to seventeen. Children and teenagers. These are the ones being killed in this inhumane War.
How can anyone justify this?
Samira Balousha carries her surving child, Mohamad while crying over the body of her daughter, Jawahar, during the funeral.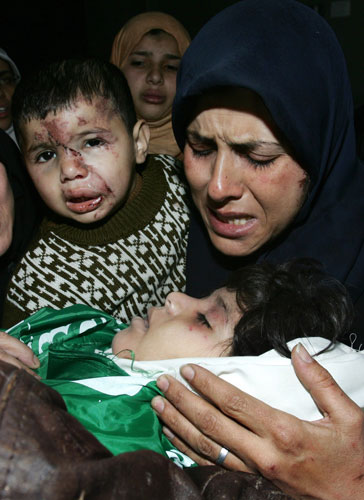 Mourners carry the bodies of the five members of the Balousha family killed in the air strike.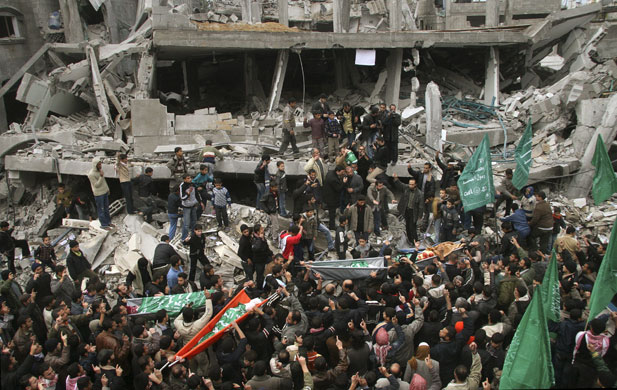 A mourner lifts the body of four-year-old Dina Balousha, one of five members of the same family - including three children and two teenagers - killed in an Israeli missile strike.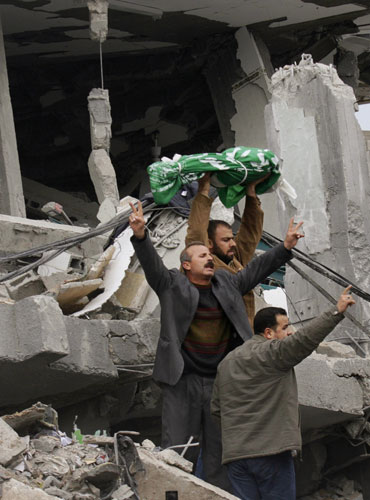 May Allah subhanna wa ta'ala accept them as martyrs and give them patience. Ameen.